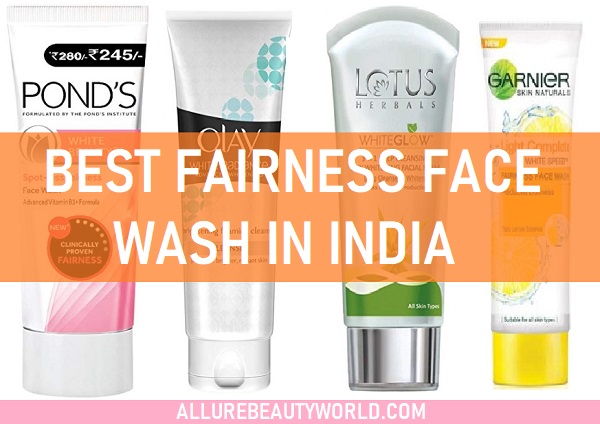 Best Fairness face wash in India for dark and dull skin? This is the term that a lot of us will search for. So, Fair and light skin, is that what you need? If you wish to get fair and glowing skin, then using the skin lightening face washes can give some relief in terms of at least brightening the skin. According to different skin types, you can use the whitening cleanser to clarify your skin and to enhance the glow. As face washes are an integral part of your skincare regimen, you must take care and decide which is the one that we should use. 
Top 10 Best Fairness Face Wash in India (2022) For Different Skin Types
We have penned down this list of the best skin whitening face washes in the market. Boys, too can try these for their dark skin tone. While this is true friends that you can never drastically change your skin color yet using such products fades the tan and darkening, which results in skin looking glowing and fresh, especially for college students who get dark skin, because of sun tan. So, hopefully if you're thinking which is the best fairness face wash in India?, then it'll really help.
1. Pond's White Beauty Daily Spotless Lightening Face Wash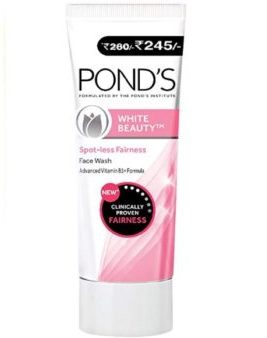 This is one of the best selling skin whitening face washes in Indian market. It can be used by all skin types, but due to its slightly drying nature, we would recommend it, only during the summer season. It's not for the winters, when your skin is already dry. It has spots reducing Technology with vitamin B3, so use it to lighten your dark spots and increase the fairness of the skin.
Pros and Cons:
Pleasant smell

Good for summers

Lightens dark spots

Not for extremely dry skin in winters
2. Lakme Absolute Perfect Radiance Skin Lightening Face Wash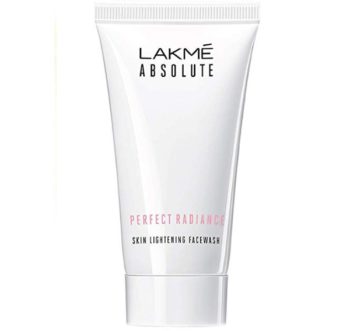 It is the best affordable fairness face wash available in India. It boosts the skin lightening by targeting the dark spots, acne marks and pimples and working on the uneven skin tone. Definitely, it fades the sun-tanning and excessive oiliness during humid weather. The product gets applied on your skin nicely and with its foaming lathers, it cleans the skin effectively. It's the best face wash for fairness in India for people below 30 years of age. I feel that after 30s you should focus more on anti aging products.
Pros and Cons:
All skin types friendly

Lightens tan

Foaming lathers

Lightens dark skin

One of the best fairness face wash

Not for very dry face
3. Lotus Whiteglow Skin Whitening Facial Foam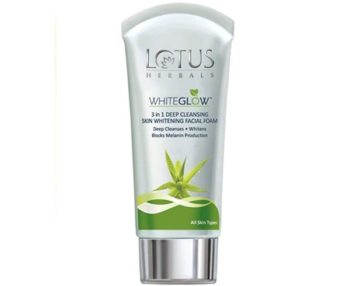 Part of the Lotus Whiteglow Skin range, this whitening cleanser blocks the melanin production to lighten complexion. The herbal facial cleanser maintains a healthy skin by minimizing the dullness and removing the dead skin cells. The product also gets rid of the excessive sebum, dead and deep skin impurities. After using this for few weeks, your skin certainly glows and looks better than before. It is one of the best face wash for skin whitening and lightening tan. If sun tan is troubling you then my friends, do check out the best sun tan removal face scrubs in India.
Pros and Cons:
Foaming formula

Non-drying

Little bit is needed

Non-greasy

Decreases melanin

Works on dark and dead skin cells
4. Garnier Light Complete Face Wash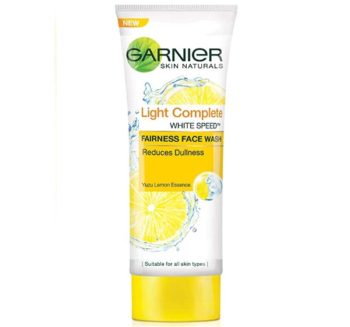 The product is extremely easily available and comes from the house of Garnier. This fairness face wash reduces dullness due to its luminescence technology with vitamin C in enough amounts. It lightens the skin tone and face complexion become glowing within few days. It is the best face wash for whitening and pimple marks removal, even for the teens.
Pros and Cons:
Rich in Vitamin C

Fights Dark Spots

No bad smell

Affordable

Easy availability

Safe for sensitive skin
5. Biotique Bio White Advanced Fairness Face Wash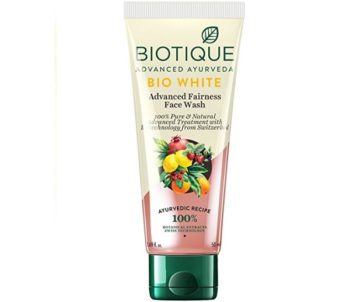 Getting visibly lighter skin is easy with this daily-use face wash. It is able to give you fairer, flawless skin with its 100 % botanical extracts. Being Alcohol free and cruelty free, the product is a must try for those who've got sensitive dry face. It is a good cleanser to whiten the skin and getting glowing skin.
Pros and Cons:
Paraben Free

Not tested on animals

Non-Drying

Best fairness face wash for glow

Rich in Organic ingredients
6. VLCC Snigdha Skin Whitening Face Wash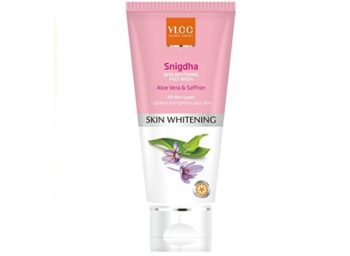 A moisturizing face wash with its excellent formula, removes pollutants, oil and grime, as well as make up traces. It won't dry your skin like the soap based cleansers. Also, it lightens and brightens your skin and is perfect foaming face wash. It's the best face wash for skin whitening for oily skin in India.
Pros and Cons:
For all skin types

Affordable

Quick lathering

Little goes long

Fairness face wash for glow in India

Skin Type: Suitable for all skin types, mainly oily face
7. Garnier Men Power White Double Action Face Wash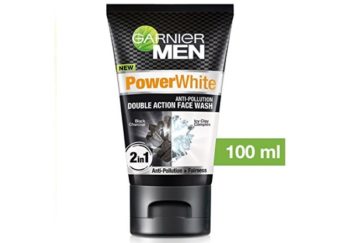 The USP of this product is that, it's the first Dual Texture face wash, designed to remove dust and pollution for fairer looking skin. Enriched with Salicylic Active, black charcoal and Vitamin C, it is the known to exfoliate skin and reduce dullness respectively. It is more beneficial for the oily and acne prone skin than for the dry skin. Charcoal is an excellent product for skin purification, therefore, you can check this exclusive list of the best charcoal face washes in India. 
Pros and Cons:
Cleanses skin deeply

Removes oil, dirt and pollution

Even tones

Makes face radiant

Less moisturizing for the dry skin

Best fairness face wash for men with oily skin in summers
8. Himalaya Herbals Fairness Kesar Face Wash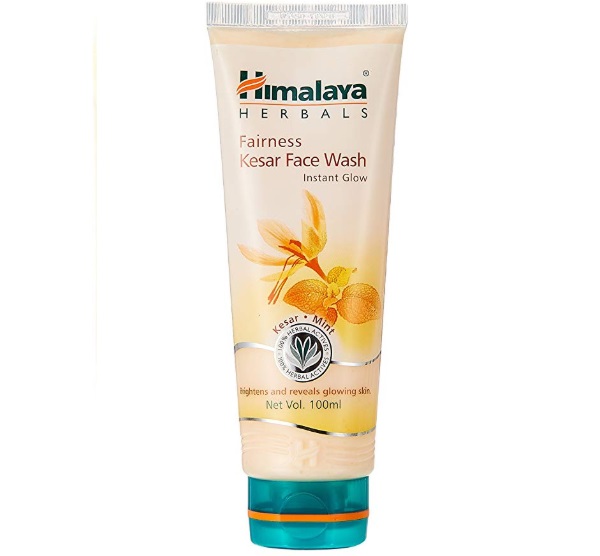 Saffron is worldwide known for its skin lightening properties and to reduce the darkening of face. This face wash is ideal herbal skin whitening face wash for men and women with sensitive face. Its hydrating formula and softening lathers help to cleanse without the stretchiness feeling after the use.
Pros and Cons:
Light on Budget

Non-drying

Has Saffron

Best lightening face wash in India for dry to sensitive skin
9. Mamaearth Ubtan Natural Face Wash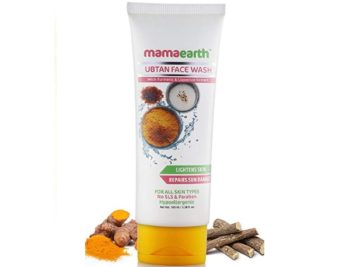 Mamaearth Ubtan Natural Face Wash is exclusively made for the dry skin. It has the goodness of ingredients which are used and included in a herbal ubtan. It heals the dryness and the best part is that, it makes complexion fair and even toned. Regular sue also ensures the lightening of dark spots, sun tan and darkening due to dullness. It is the best paraben free fairness face wash for dry skin in India.
Pros and Cons:
Contains Turmeric for fair skin

Natural ingredients

Paraben and SLS free
10. Olay White Radiance Advanced Whitening Foaming Face Wash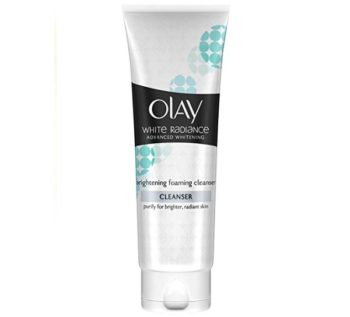 The brightening and foaming cleanser clarifies your face with effective forming formula. It gives you pearl like glow and is suitable for men and women both. The product removes the oil, diet and even makeup dresses effectively without oven drying your skin. You can also use the Olay skin cream after using this product. It is not dry the skin that is the best part of this face wash. It's best fairness face wash for aging skin.
Pros and Cons:
Non-drying

Good smell

Foaming product

Removes oils

Little pricey
Other than using these fairness face washes, you must also use the creams for lightening the face. Read the article to know more about the creams for fairness in India. But make sure that you also protect your skin from the sun rays. Especially, when you're in your teens. This is the time when your skin is delicate. UV exposure not only causes darkening but sagging, dullness and premature aging of skin.