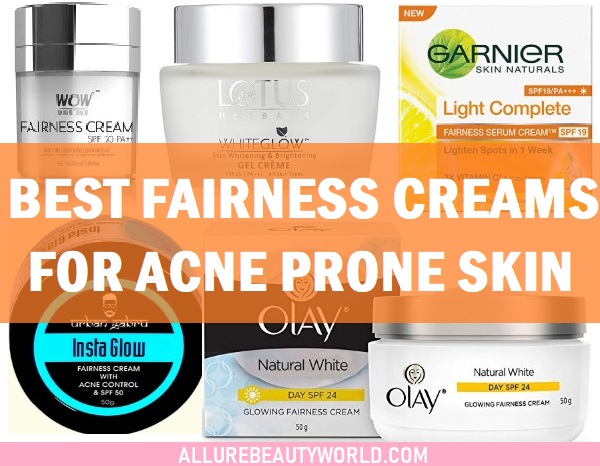 Best fairness creams in India for oily skin. Choosing the best fairness cream in India for your skin type can be tricky. As when you have oily skin, the creams and lotions that you apply on the skin can make it look greasy and sticky. And when your skin is acne prone, then the task becomes even more difficult. But worry not! In this article at AllureBeautyWorld, we have compiled the list of the best skin whitening creams suitable for oily and acne prone skin type.
While you cannot change the skin type you can certainly used products which are formulated just for you. While choosing a suitable lightening cream for your skin, you must consider two things, one is that the cream should not be comedogenic and the other is that, it should have a light water based texture.
If you think, whether whitening creams actually works?
Let's us give you a straight-forward answer. Such fairness creams fade away the tan and darkness. Regular application shields the skin from UV rays which keeps the original complexion tan-free. In short, to brighten the skin and make it glowing, yes, you can use skin lightening creams.
Best Fairness Creams in India (2022) for Oily, Acne Prone Skin
1. WOW Fairness SPF 20 Cream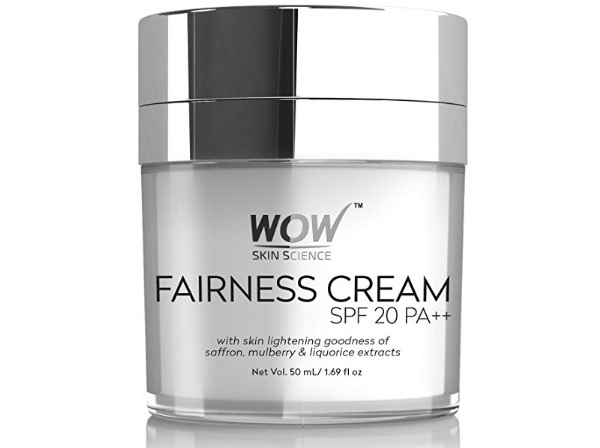 This is one of the best fairness creams in India, that do not contain any mineral oil and sulphates. It comes with SPF 20 that gives you protection from sun darkening. It delays the signs of aging and lightens the dark spots. Rich in the skin lightening goodness of saffron, Mulberry and liquorice extracts, this cream is suitable for oily and combination skin. Other than that, major highlight of this product is that it is a paraben and sulphate free skin whitening cream in India.
How to use:
Wash the face with oil-free cleanser. Apply the small amount of cream and blend it well. Use this every day to keep the skin glowing.
2. Lakme Perfect Radiance Fairness Day Crème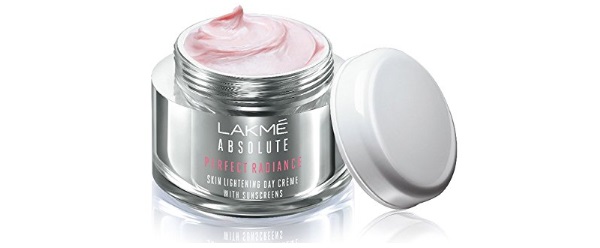 Lakme fairness cream moisturizer moisturizes your skin with its light texture. With its skin lightening ingredients, it helps to fade away the dark spots and blemishes from the skin. The light baby pink color of the cream looks really good. It's the best fairness face creams in India at affordable prices to brighten medium skin complexion. Please see this article which will help you in finding a good cream for dark spots removal in India.
How to Apply:
Use a pea sized amount on the clean face. It should be used once in a day.
3. UrbanGabru Insta Glow Fairness Cream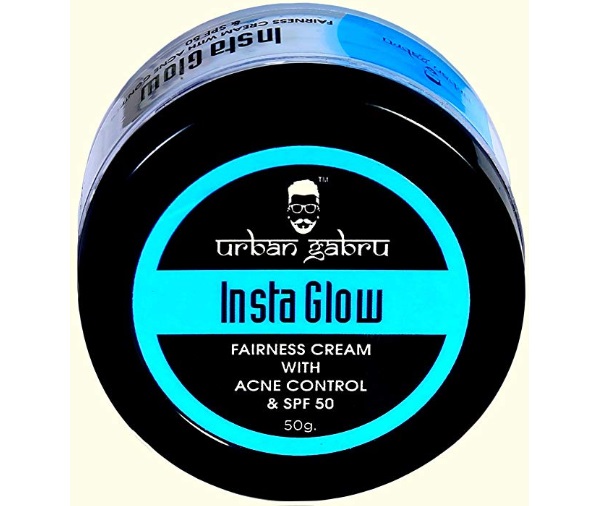 The men's glowing fairness cream comes with acne control and SPF 50. It is one of the best skin lightening creams for men because of its double benefits. It has a light formula that gets into your skin and fights the acne causing factors. While its ingredient brightens, it also protects the skin during the daytime. For summers, it is perfect. You can also take a look at this article to help you in getting a right sun lotion for oily skin.
How to Apply:
Use a good face wash for oily skin. Take a small drop of this cream and massage on the face.
4. Lotus Herbals Whiteglow Skin Whitening and Brightening Gel Cream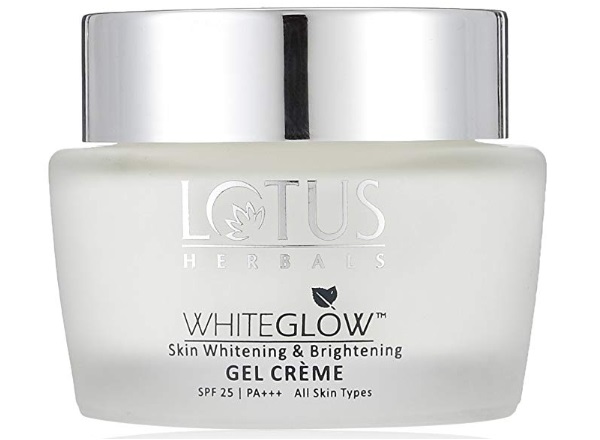 It is one of the best whitening creams for men and women with all skin types but when your skin is oily, it works wonders. The cream is light and gives you fairness from its Mulberry and liquorice extracts. Loaded with pleasant smell, it gets applied on the face seamlessly. It is suitable for all the seasons and safe for sensitive skin. I would rate this as the best fairness cream for oily skin. I've oily face, so whenever if use anything super moisturizing, that causes acne, but with these, neither my pores were blocked, nor I got any pimples.  It's also the best face cream for teen skin for daily use. So, even if you're a 15 year old boy or girl, you can try this face cream.
How to use:
Take small pea size of this cream. Apply this on the clean skin. Blend it well using finger pads. Use this daily, only for the day. For night, use its night version.
5. Garnier Skin Naturals Light Complete Serum Cream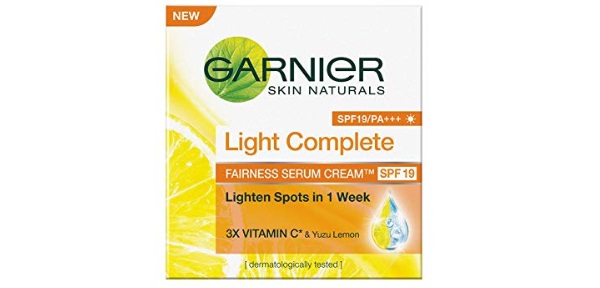 Rich in SPF 19, this day cream for oily skin has a serum-y light formula. It contains three times more vitamin C and lightens your dark spots within one week. It is a dermatologically-tested product that gives you up to 3 tones lighter skin. It is suitable for all skin types to give natural and fair look. Even if you're in your 20s, it's perfect. It's texture is thick so make sure you dot it on your face and then rub it. It's not that effective after mid 30s as I would suggest you to use something more moisturizing and with anti aging features.
How to use:
Apply it after washing your face with a mild cleanser. Massage for few minutes. If your skin feels dry apply a light moisturizer.
6. Olay Natural White 7 in 1 Glowing Fairness Day Skin Cream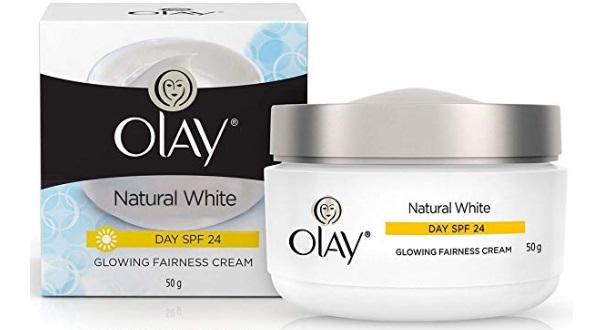 Olay Lightening cream is the best fairness cream for oily-acne prone skin in India. It's loaded with SPF 24 and is a suitable everyday use cream for oily skin. Triple whitening system makes your skin tone even. It works by reducing melanin production in excess amount. The moisturizing cream gives clear glowing face. It also increases the cell renewal due to which your skin appears brighter. Having said that, there is a night cream for fairness too from Olay which you can also consider. doing so, will help to accelerate the whitening process. In fact, here is a complete list of the best night whitening creams in India, which you can also check. 
How to use:
Blend the cream on your face and neck. It can be applied twice in a day. The product is also safe for boys.
7. Pond's White Beauty Anti Spot Fairness SPF 15 Day Cream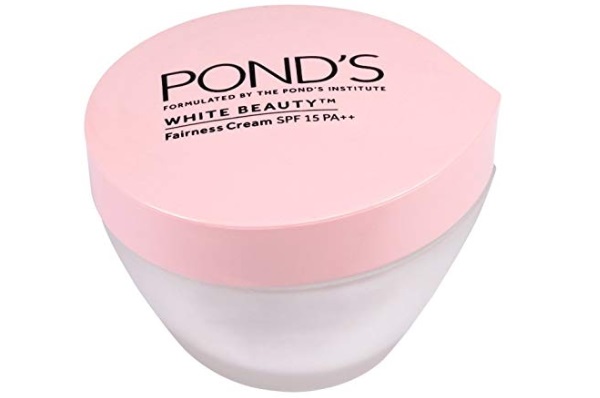 People looking for suitable dark spot lightening day cream should definitely try it. It fades away those ugly little stubborn dark spots with its anti-spot formula with vitamin B3 Complex. Upon application, it gets inside the layers of the skin easily and provides a glowing look to your wheatish complexion. While it moisturizes the skin it also blocks the harmful UV rays due to its SPF 15 formula. It's also light on your pocket and is suitable for everyone.
How to apply:
Use it daily after washing the face with good non-comedogenic facial cleanser.
8. Lotus Professional PhytoRx SPF25 PA+++ Whitening and Brightening Creme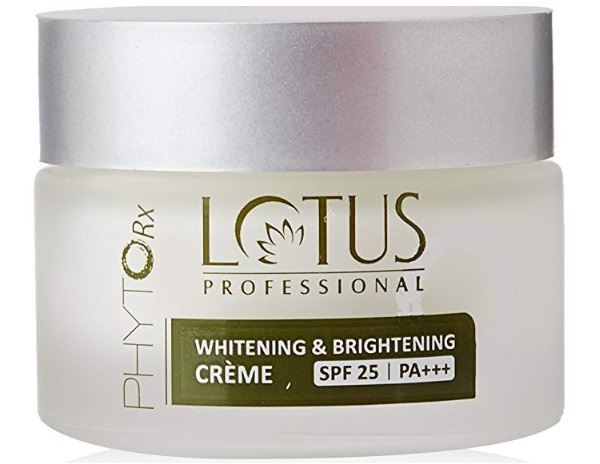 It's a day whitening cream from Lotus Professional Range. Being rich in organic ingredients, it gently exfoliate the darker skin layers and reveal glowing bright skin. It is rich in Ayurvedic ingredients like Amla very, Lichi, punarnava roots promotes lighter and uniform skin complexion. Lichi is rich in antioxidants that help to vanish away those spots and pigmentation that makes you conscious during parties and functions. It' the best fairness cream for oily skinned people in their 30s even.
9. L'Oreal Paris White Perfect Day Cream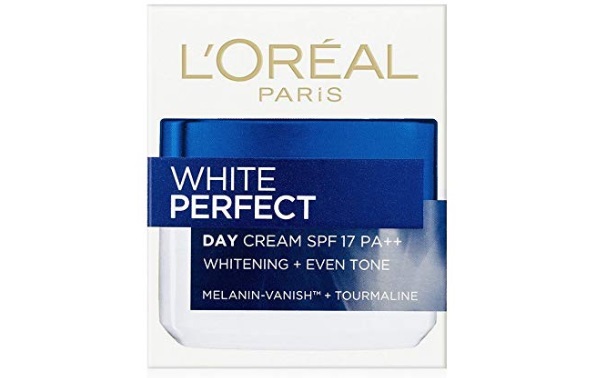 We've got another day time use cream for you that is rich in SPF 17. It has a melanin Vanish Complex that even tones your dark skin. It reduces the spots and brightens the layers of skin. If you've combination skin, then it is the best fairness cream for oily-combination skin. Regular application also reduces brown spots. Its light and non-sticky formula is suitable for oily and acne prone skin type.
10. Ayush Natural Fairness Saffron Face Cream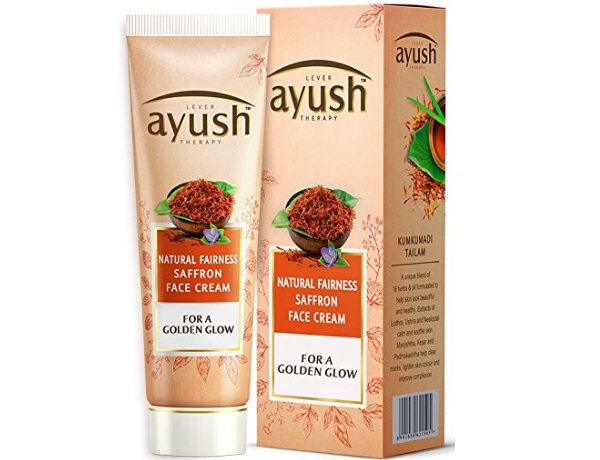 For getting a golden glow with the help of Herbs like Saffron and kumkumadi tailam this cream is one of the best Ayurvedic fairness creams in India for oily skin. Quick and easy to blend formula is suitable for oily and acne prone skin. It's a thick but easy-to-blend cream that is suitable for oily skinned girls during summer time.
11. Blue Nectar Ayurvedic Brightening and Lightening Cream

The Ayurvedic formula is a rich in 13  natural Herbs like Sandalwood, Amethi, liquorice etc that helps to brighten your skin and lighten troublesome spots and blemishes that makes you conscious. It also reduces the reduces the pigmentation and puffiness of your face. While you use it regularly it also vanishes the dark circles from your face. It is one of the best paraben free Ayurvedic face creams. This is the best herbal face cream to remove the dark spots without the side effects.
Hope our list of the best rated fairness creams in India for oily and acne prone skin types. Girls and boys with combination skin should also give it a try considering the oil-free and light formula.